Bittersweet Ministries is a faith-based, non-profit organization that seeks to create cross-cultural relationships between Mexican and American communities and to share the love of Christ.
In the suburbs of Tijuana, Mexico, lies a community next to a landfill. Fifty years ago, before the first trash truck ever arrived, it was nothing more than a couple of ranches spread across a canyon. However, due to population growth and urban sprawl, it has been swallowed up by city. Today, there are hundreds of people who live crammed together on the slopes of Cañon Carretas (Canyon of the Carriages).
Yolanda Real has lived in Carretas for most of her life. Her husband was killed when their 7 children were still young, so Yolanda had to work in the landfill in order to save enough money to send her kids to school. However, supporting her own family was not enough for Yolanda. What really troubled her was that many of the children who were attending school could not concentrate because they were hungry. So she decided to help by providing them at least one good meal every school day so that they would be able to excel in their studies.
Yolanda was also troubled by the fact that many landfill workers would bring their children to the landfill during the day or leave them locked up at home. One day, after a child was killed by an earthmover, she decided to take action. With the help of the community, she built a rudimentary building out of pallets found in the trash. Now the families had a safe place to take their children while they worked and Yolanda had a place to serve food. That was the start of the community center. Bittersweet Ministries has been partnering with Yolanda and the community center for the past 15 years.
School sponsorships
At the heart of Bittersweet's work in Cañon Carretas is taking care of the children. By providing them with food, school supplies, and uniforms, kids are given a chance to pursue an education, break out of the cycle of poverty, and positively impact the community. Our sponsorships are currently supporting over 150 children.
Building homes
Bittersweet also engages with the community in Cañon Carretas by facilitating the construction of simple but sturdy (and colorful) homes. With one less basic need to worry about, families are more likely to thrive and give back to the community.
Empowering locals
Bittersweet partners alongside local leaders that are committed to serving the members of their community. We spend time learning from each other and growing together so that we are all more empowered to lead God-glorifying lives.
Community building
We develop relationships through community Bible studies, Bible schools for kids, work camps, and outreach initiatives. For many people in Cañon Carretas, this is the first encounter with the life-giving message of the Gospel, and their first step towards a restored relationship with their creator.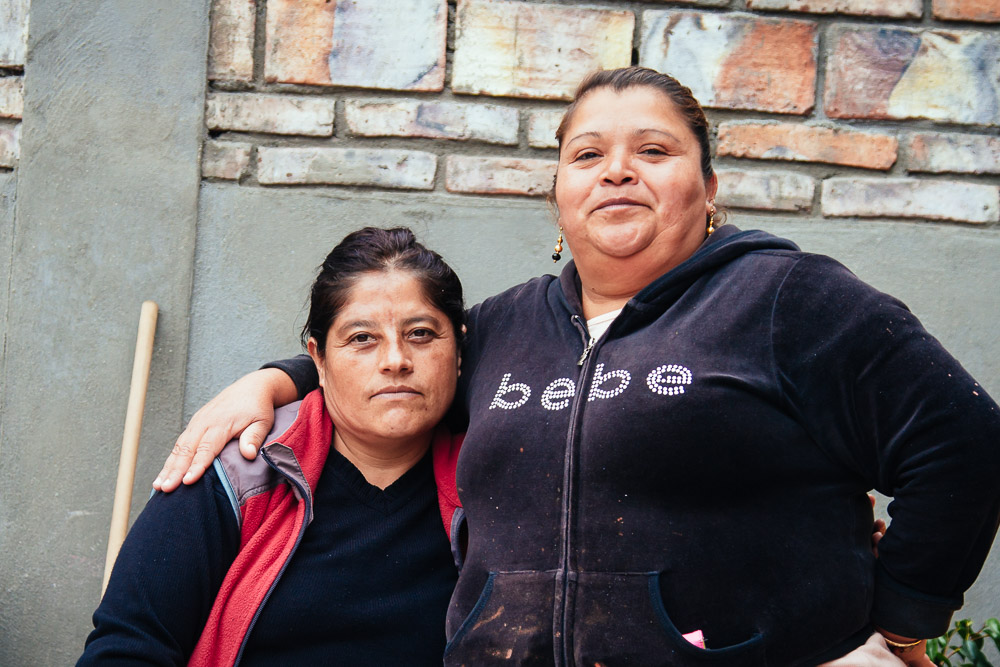 One way to get involved is by coming to visit us in Tijuana for a week-long stay during which you will engage with and serve the Cañon Carretas community. You will be involved in construction projects, Bible studies, and most importantly, will get to spend time learning from, encouraging and connecting with the community.
Trips run Mondays through Saturdays. Groups stay in a bunk house with separate men's and women's sleeping quarters, 2 bathrooms, and 4 showers. Groups are limited to a size of 12 people.
To sign up for a trip, contact us through the form below.
You can support us with your prayers (follow us on Instagram and Facebook to stay in the loop) as well as financially. Your donations will help us:
- Keep vans & truck running
- Support Pastor Gilbert
- Support the Daycare
- Feed people in the Canyon
- Send children to school ($150/year)
- Empower the men and women of the Canyon
- Provide housing to those in need
- Give hope to those who are struggling
- Share the Gospel with those who do not yet know Jesus
You can mail your support to the address below or donate online.
CONTACT US
Please mail your support at this address:
Bittersweet Ministries
C/O Jody Dull, Financial Secretary
4487 Crawford Tom's Run Rd.
Brookville, Ohio 45309
To set up a work camp, or for any other inquiries, please fill the form below: